Rocky & Colin - Wedding
September 26, 2015
I've known Rocky for about three years now and there's too many good things to say about her. Rochelle is a die hard- there are no limits to her passions. Whether she's chasing a violent tornado storm, cheering on her favorite hockey team, or spending quality time with friends, she gives it her all because she wants the best. Choosing her husband was no different. When I first met Colin it felt like we've been friends for years. His personality pairs wonderfully with Rocky's; they're the dynamic duo that we all strive for.
As I approached Colin's hotel room to start shooting, laughter and music flooded the hallway. His friends from Chicago flew in town for the wedding and it looks like they're having a good time so far. Inside the room, I find Colin sporting some outstanding chops, wearing a Davey Crocket hat, and his boys crackin' beers and jokes. I can tell it will be a good day. Once it's time to get ready, the groomsmen go to work on Colin, prepping him for his big day. As the best man is making adjustments to Colin's suspenders, a strap breaks free and hits him right in the face! Man down! Everyone cracks up.
The best man walked away with minor damages; he was wearing eye protection lol. Things were a little less rowdy in Rocky's room down the hall...
Once everyone was ready to go, we left separately to meet at The Chapel at Red Rocks. Rocky and Colin had still yet to see each other, and I could tell both were anxious to lay eyes on their prize.
It was first-look time. I chose a spot beside the chapel where Colin eagerly waited for about 8 minutes in the same spot. The wait paid off...
Smiles all around from here on out :) It was time to get ready for the ceremony to begin, so I snapped some photos of beautiful landscape, entering guests, and little knick knacks scattered throughout the venue. (Click to enlarge photos)
The ceremony was relatively short and sweet, punctuated by jokes, laughs, and tears. The red rocks in the background gave a nice touch to an already touching ceremony.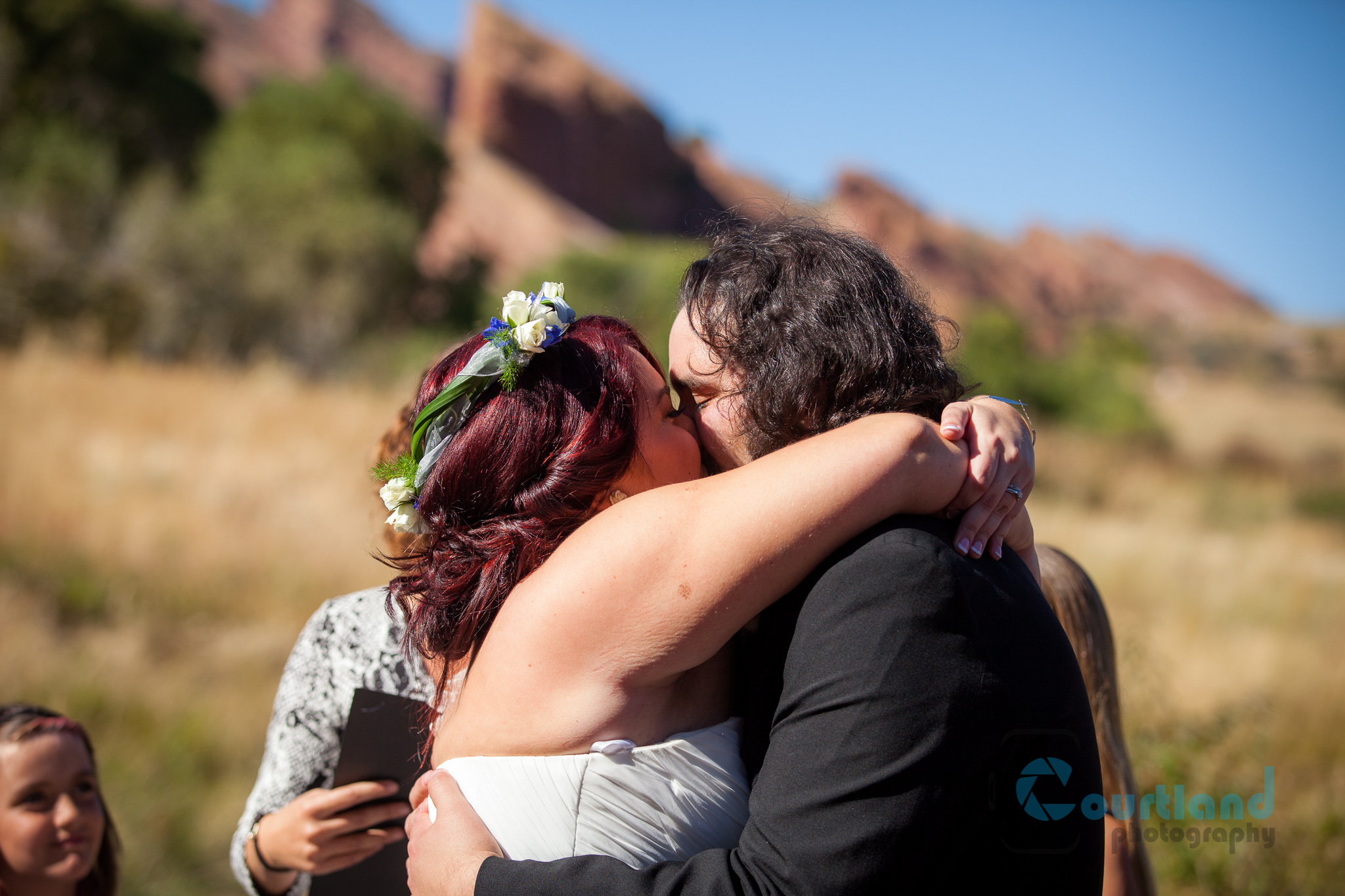 We shot inside the chapel for a few shots following the ceremony. I love how the reflection of the church windows shows the red rocks in the background. After I photo bomb one of their church photos, they jump into a limo and follow me up to an overhang near the Red Rocks Amphitheater entrance to begin shooting the romantic shots. I took two wrong turns before we reached our final destination *smacks forehead*, but once we arrived everything went perfectly. (Click to enlarge photos)
We then rushed back down the mountain towards the reception site at Fox Hollow Golf Course. I've played golf there a few times, but had never shot a wedding at that location. After we knocked out the family formals, it was time to get the wedding party in their uniforms...I mean jerseys...(Click to enlarge photos)
Rocky's wedding was awesome! The people, the venue, the atmosphere were all on point! I always feel privileged to capture someone's special moment in life, even more so with a friend's wedding :)